Generating clean electricity for almost 600,000 UK homes
Walney Extension offshore wind farm is located approx. 19km west of Barrow-in-Furness in Cumbria, off the North-West coast of England.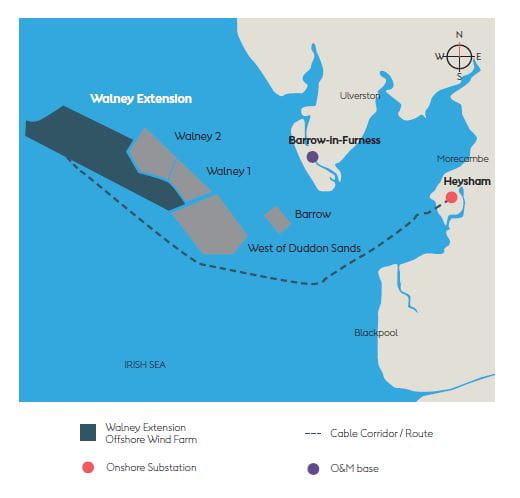 Situated next to the existing Walney and West of Duddon Sands Offshore Wind Farms, Walney Extension is made up of 87 turbines and has a total capacity of 659 MW, enough to power almost 600,000 homes in the UK. The project is a shared-ownership project between Ørsted and our partners PFA (25%) and PKA (25%).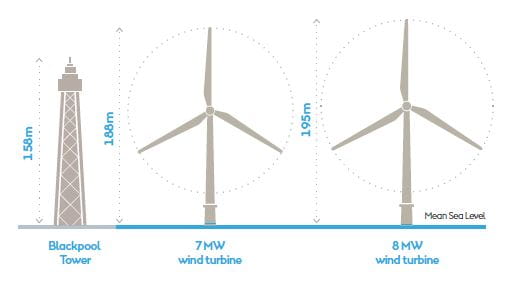 The 87 turbines are split between two leading manufacturers, 40 x MHI-Vestas 8.25 MW turbines and 47 x Siemens Gamesa 7 MW turbines.
2018
2017
2015
2014
2011-2013
2010
The project was inaugurated on 6 September 2018 and now generates clean electricity for nearly 600,000 homes. Once the largest wind farm in the world, it was overtaken by Hornsea One offshore wind farm in 2020.

Offshore construction commenced in February 2017
Onshore construction commenced.
Development consent granted.
Public community consultation events Application for Development Consent Order (DCO) is submitted and accepted by Planning Inspectorate for progression into Examination.
The Crown Estate Award an Agreement for Lease to extend the Walney Offshore Wind Farm by a further 750MW over a 145 km2 area.
Scoping phase, stakeholder consultation, environmental surveys and impact assessment commenced.